Caremark Barnsley
01226 242 858
Unit 8b Redbrook Business Park, Wilthorpe Road
,
Barnsley
,
South Yorkshire
S75 1JN
f :
01226 248 016
e :
barnsley@caremark.co.uk
"I think my Carer is a good, kind and caring lady, she is on time and always looks smart in her uniform. I like to stick with Julie because I know her...
read more testimonials >

Jobs with Caremark
Find your perfect career in care
click here >
19 Apr 2017
Our everyday hero!!
Our new Care & Support worker, Kerrie Guest, used training delivered by AJB training to go above and beyond their expectations.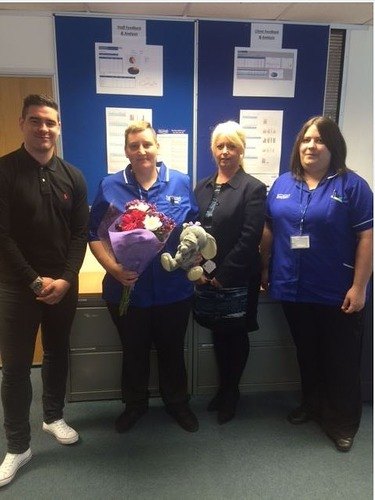 Kerrie Guest became our everyday hero when she used her recent training to save a life of one of our customers.
Kerrie walked in and found the customer was sweating and struggling to breathe. They became non responsive so 999 was called. The customer stopped breathing while Kerrie was on the phone to the paramedics. They instructed her to move the customer onto the floor and start compressions.

Kerrie remained calm and carried out compressions as per her training. It was the first time she has had to do this and she did it well and got the customer breathing again.
Maxine Fairhurst, our assistant care manager said "We are very proud to have Kerrie on our team, she has shown great commitment and dedication to the role and proved what a great carer she is."
She was presented with flowers at our office this week as a small token of our appreciation.
< Back to all News Articles