Continued progression: our Care Assistant Sophie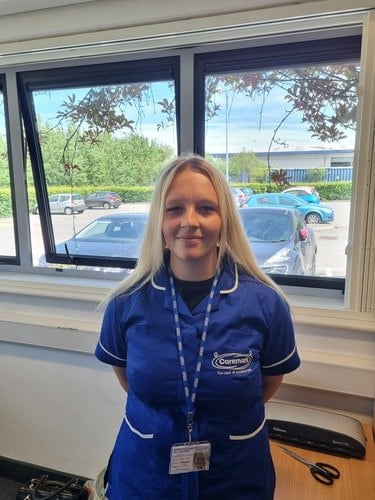 Continued progression: Sophie joined us in July 2019, being her first role within the care industry. Sophie didn't really know what to expect and was pretty nervous to start with, however, it was clear that after just a few weeks this was the perfect position for her! Sophie has continuously shown that she is hardworking, dedicated, committed, intelligent and most of all, caring, towards her regular customer's.
Recently, we had an opportunity arise for a Case Leader position within our organization, which Sophie showed interest in. After several meetings with our Care Manager and our Director, the decision was for Sophie to begin her 'pathway' of her career progression and was promoted to our 'Senior Support Worker' role. Sophie has lots of positive energy which she puts 100% into her role every single day.
Sophie's role will still consist of some Care and Support to her regular Client's who she is specifically trained to support. Additional to this, Sophie will be supporting our current Case Leaders Jackie and Kirsty with some day to day tasks of the Case Leader role, this will involve conducting Spot Checks, Observations and supporting our brilliant Care and Support Workers where required. Sophie also visits Client's to conduct Quality Assurance checks and Care and Support Review's.
We are looking forward to Sophie's continued progression within Caremark Rotherham & Sheffield and can't wait to see where this pathway takes her as she follows in the footsteps of several other members of our management team who have completed the same journey.
We are always interested in growing and developing our own management team, promoting internally is something we prefer to do; we love to offer opportunities such as this to our existing team who are already able to show us how passionate they are about the care they provide for their customers.