Carers win Great British Franchisee Award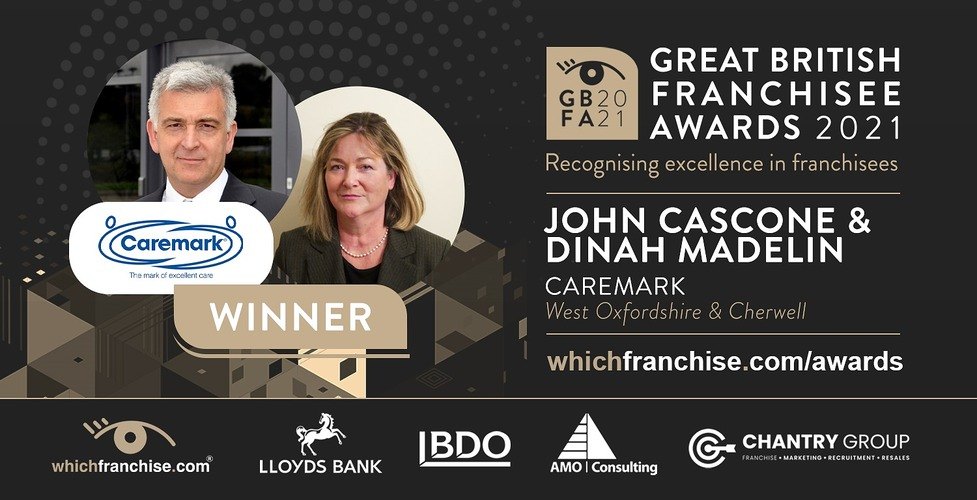 Sympathetic ears – and even some artificial ones – have helped Dinah Madelin and John Cascone win a prestigious industry award for their work as the owners of Caremark in West Oxfordshire and Cherwell.
Their determination to give domiciliary care customers the best possible support caught the eye of the judges of the Great British Franchisee Awards, not least their response when a customer said her carers seemed to struggle with putting in her hearing aids.
"We purchased synthetic ears and obtained a range of hearing aids so that all staff could practise handling, inserting, troubleshooting, cleaning, and changing batteries, etc, without causing any distress to customers," says Dinah.
"And when some customers said they had no idea who our supervisors were, despite frequent visits and engaging conversations with them, we changed the colour of the supervisor uniform to make them more distinguishable from the regular care staff – and the problem vanished.
"We also embroidered the title Supervisor in extra-large letters on to the uniforms as some elderly customers struggled to read staff ID badges."
During the pandemic, one local care home was particularly badly affected by Covid among its staff, so Dinah and John provided a full-time carer to help them safely through the hardest time.
"When we started with Caremark, we thought it would be amazing to help 50 people continue living at home, or incredible to get to 100 and know we had had a real impact on their lives," says John.
"To date we have supported more than 960 customers, which was not a number we'd even considered.
"We get really, really good feedback from our customers. We listen to what they say. And we go the extra mile for them and their families in their time of need."
Dinah, a former nurse, and John, who worked in marketing, made their franchise profitable in only 18 months.
"Twelve years ago I didn't know what the word franchise meant," says Dinah. "But a franchise is a bit like being handed a recipe. If you follow it, success is at the end.
"Winning this award is really flattering and a bit unbelievable. It's like having a massive pat on the back. We're really proud and really pleased."
The Great British Franchisee Awards recognise franchisees' exceptional performance and business experience, ability to drive business growth, staff retention, customer satisfaction, community involvement, inspired leadership, and franchise involvement.
The awards are run by which franchise, supported by Lloyds Bank, BDO, AMO Consulting and Chantry Group.
• Read more about the awards at https://www.whichfranchise.com/awards
• For over 25 years, which franchise has promoted ethical franchise opportunities in the UK.
Learn more at https://www.whichfranchise.com/