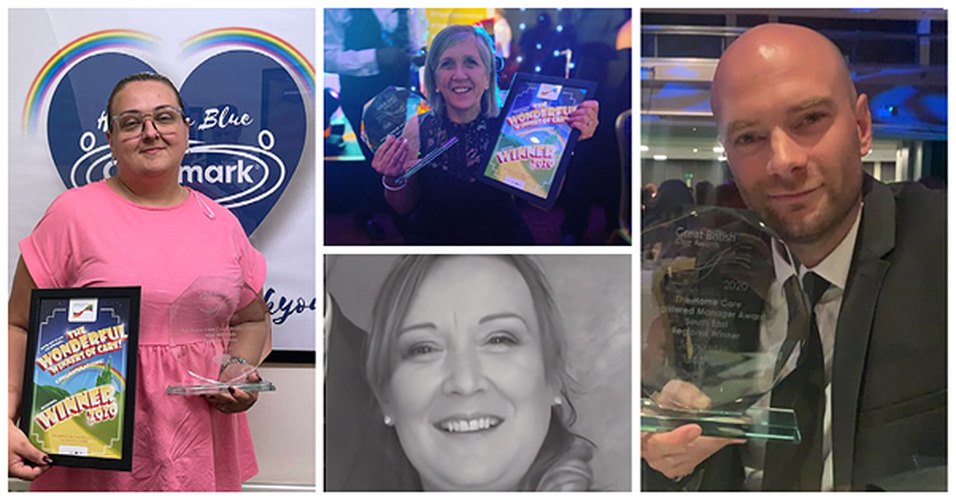 06 Aug 2021
Caremark care staff win at Great British Care Awards.
The in-home care provider is delighted that these regional winners will be going on to the National Awards in September.
Care Coordinator Maria (pictured left) from
Caremark (Worcester & Malvern Hills)
scooped the 'Care Coordinator' Award for the West Midlands.
Directors of
Caremark (Worcester & Malvern Hills)
David and Caroline Balmer had this to say: "Maria has been instrumental in the last year, ensuring that all clients and care staff had the correct information at hand to deal with their daily tasks. She and all of the rest of the team deserved this recognition and we at Caremark are proud to have her."
Award recipient Maria had this to say on the recognition: "Thank you so much for the recognition and award. It's always nice to be appreciated. Thank you to the Caremark team for the support and being amazingly understanding over the last year."
Sally (pictured top centre) from
Caremark (Mid Sussex & Crawley)
found herself the recipient of the Southeast regional award for 'Home Care Worker of the Month.'
Natalie Bloom from
Caremark (Mid Sussex & Crawley)
had this to say: "We are delighted that our Field Care Manager Sally Sullivan won 'The Home Care Worker Award'. She was selected from a shortlist of over 200 applicants for the Southeast Regional Awards and will now compete in the National Finals in September."
The Home Care Newcomer Award was presented to Nicola Woodbridge (Pictured centre bottom) from Caremark (Cambridge and South Cambridgeshire) for their region, having previously worked in retail, Nicola has quickly adapted to working in social care, showing a true commitment and passion and will willingly go out of her way to support her service users.
Nicola had this to say on the award: "I have had an amazing journey since moving into care at home from retail and I am absolutely delighted to have won this regional award."
Managing Director Rob Johnstone had this to say: "Nicola has been a fantastic part of the Care Team here at
Caremark (Cambridge & South Cambridgeshire)
since she joined us in 2019 and has since been promoted to Field Care Supervisor."
Next up, Simon Rowland (pictured right) from
Caremark (Tunbridge Wells, Tonbridge and Malling)
won the southeast regional award for 'Best Home Care Registered Manager.'
Here is what the judges had to say: "Simon's professionalism, dedication, and devotion to his team and his clients simply blew the judges away! He is meticulous in his own standards and encourages his team to be the very best they can."
Simon will be joining the other 3 Caremark regional winners shortlisted for the National Awards in Birmingham in September.
If you would like to join these or any of the other Caremark teams who provide Care & Support to communities across the nation, Caremark are recruiting now, so please
click here
to find out more about a rewarding career with the leading in-home care provider.