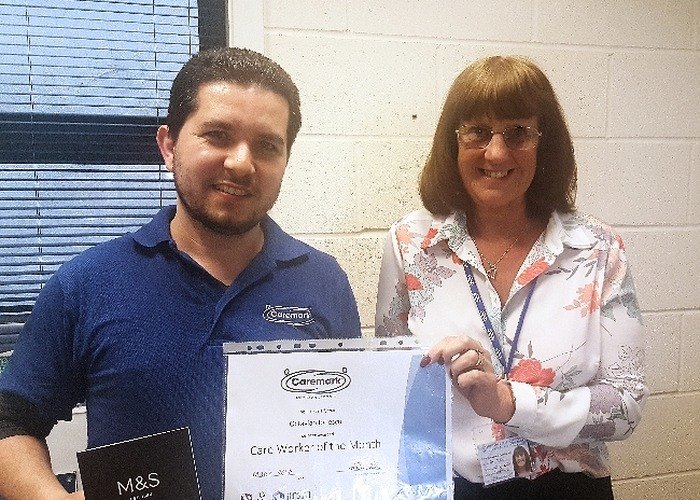 01 Apr 2017
Octavian Ionescu (Chiltern & Three Rivers)
Nominated by his Care Manager, Diana Graves, Octavian is considered to be a shining example of an excellent care worker. He is totally reliable from every aspect, is flexible in his working approach and picks up calls outside his availability.
His communications skills are very good which includes the ability to listen well to his clients and his colleagues and report back accurately any important information to his supervisor. No matter who he is speaking with, he is always extremely polite in all his dealing with other people.
Octavian has a lovely cheerful disposition and works very well within a team, helping out his colleagues if needs be. Consequently other staff enjoy working alongside him. He attends all team meetings and is very keen to listen to others and get involved. In addition his reflective work is excellent and has been of help to others.
Always compliant with the Caremark system, Octavian also understands how to work in line with best practice principles and this was clearly demonstrated with the excellent rapport he built up with one client. As well as offering his client practical and personal assistance, Octavian worked alongside him so that he could fulfill his goal to become more independent.
This has become evident recently when his client said that with Octavian's support he is now able to manage a few walking steps from room to room, when previously he was totally dependent on his wheelchair and he now has the confidence to try harder.
Since receiving such good care a big difference has been made to his life; exercising his legs means that he is sleeping much better and longer and no longer has to suffer the long hours of the night lying in bed, desperately trying to sleep.
His client has been extremely complimentary about Octavian as have the client's family. He stated that he felt Octavian always extended himself at every visit and always looked forward to him coming as they have great conversations. He considers Octavian to be an outstanding care worker, one who never leaves without asking if there is anything else he can do.
His other clients have also sent in numerous compliments regarding his work and he has proved to be a truly fantastic care worker.