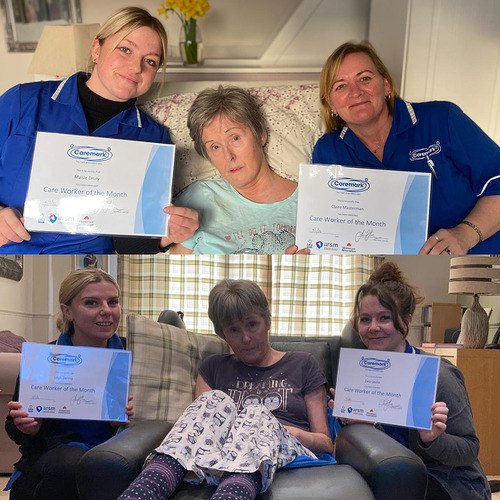 17 Mar 2022
Care team of four honoured with award
Two pairs of Care & Support Workers from Caremark (East Riding) were nominated by the husband of a service user for their professionalism, kindness and dedication to the needs of their client.
Leah, Zara, Claire and Maisie have been settled and established with Karen Watson for almost two years now and have become very much part of the family. Karen's husband Graham describes them as "a great asset to the business" and said "formal recognition of what they are delivering under the Caremark brand should be recognised."
Graham went on to say: "They go above and beyond to support and care for Karen, but also make my life so much easier too by the little things they do.
"They all undertake their roles with a professionalism that is such a great credit to the Caremark brand, and always with a smile on their faces regardless of what they've faced in prior calls or the wants ahead of them. Over the last two years with Covid, it's been a true blessing having them coming into the house, they bring so much happiness with them and you can see Karen immediately responding positively. They are so courteous and respectful and have all built up a great rapport with Karen, my parents and my children who, all equally, think they're fantastic too. We as a family cannot speak more highly of them.
Most importantly, they work hard to protect my wife's dignity and although Karen has complex needs, they've taken the time to understand those needs and have learnt how to meet them, again always with a smile and a positive attitude.
The two teams work well together, dovetailing seamlessly. At the end of each shift, they message each other to say if there's anything the others need to know about by way of a handover. This continuity provides a wonderful service, making my life so much easier under difficult circumstances. They are also willing to mix things up a bit and be flexible when needed - often covering additional shifts at short notice. I genuinely cannot imagine a team of carers providing any better support."
As a team, these ladies have a settled group of service users they support and have done for the past two years. Some of their clients are vulnerable with complex needs, all of whom would confirm their excellent work, undertaken on a daily basis, makes such a difference to all their lives.
If you are interested in a rewarding and fulfilling job, helping our clients live more independent and fulfilling lives, then a job in care could be for you.
Visit our jobs page to find out more about a career with Caremark.