Caremark launch company Mission, Vision and Values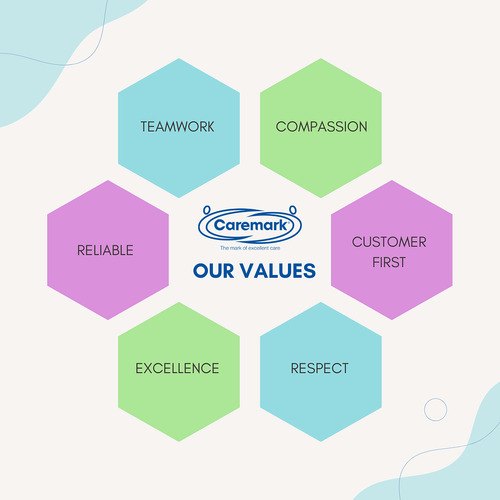 Caremark Dartford & Gravesham recently came up with our company objectives, vision and values and we would like to share this with you. As Caremark Dartford & Gravesham continues to grow and expands into Medway, we felt it was the right time to define our collective goals and objectives, reflecting the excellent standard of home care services we currently provide. We want to ensure we always strive to deliver the highest standards of care possible and maintain a positive work environment for all our employees. Read the article to find out more.
The Caremark Dartford & Gravesham team recently sat down to define our objectives, vision and values as a home care provider. Whilst we've been operating for a number of years and living the Caremark brand of excellence, we felt it was time to sit down and re-group to clearly define what our mission is, why we do what we do and what our values are as a business.
We wanted to come up with something that we believe in collectively as a team and that resonates with us all. Our business is very much like a family and so it was important to us that everyone was involved, including our supervisor teams that work out in the field.
Our carers do a fantastic job and whilst the nature of the work we do can be quite challenging, a strong sense of purpose is important to ensure we go out every day and deliver on our commitments, going above and beyond whenever we can.
Our purpose and reason for doing what we do is simply that we are passionate about care. Every single member of the team is driven by this commitment to making a genuine difference in peoples' lives, however big or small.
Our Mission
Our mission is to deliver the highest standard of care to each individual, making them feel valued, improving their quality of life and enabling them to continue living in their own homes.
We pride ourselves on the fact that we actively strive to go out of our way and bring a smile on peoples' faces and help wherever we can.
We recently had a customer who was struggling with pressure sores, that have worsened considerably. Our carers contacted the District Nurse for assistance to obtain more dressings and so she could go out and assess the situation. Feedback provided by the customer to the District Nurse was that "Caremark are the best care company we have ever had, they are very efficient and always on time. The carers are very kind and chatty and they are very caring."
Recently, the son of another one of our customer's emailed us to let us know what he was going on holiday with some updates on taking care of his father whilst he was away. In his email he wrote "I would like to thank your team for the great care they have taken of Dad to date. He has fallen in love with the ladies and looks forward to their visits. They are all so kind to him".
These are just a couple of examples where we show how we go above and beyond. We will always try and do the best by our customers.
Our Vision
To set the benchmark for quality care and become a driving force for positive change within the community.
We don't just want to be the provider of choice in the areas where we provide care services, we want to set the standard for the level of care that we believe every individual should receive in their own home. We aspire to give each customer the level of care that we would want our own family members to receive and as we grow, we hope to be a voice for positive change in the community.
Our ethos is all about going above and beyond and giving back to the local community. You will therefore see a lot more engagement with local charities and groups that we can partner with to give them whatever support we can.
Our Values
Our values set out what we believe in as a business which defines our culture and how we operate. All our staff are expected to live by these core values as we also want to maintain a positive and supportive working environment for everyone that works with us.
CUSTOMER-FIRST
The customer is at the heart of everything we do and our customers' safety and wellbeing is our upmost priority. We will always put our customers first.
COMPASSION
We are caring and sympathetic towards our customers and have a genuine desire to help them with what they are going through.
RESPECT
We believe everyone should be treated with dignity and respect. We respect the rights and values of our customers and always look to promote their independence and choices.
EXCELLENCE

We aspire to deliver the highest standard of care, always learning and adapting to ensure we continually improve the quality of our care.
RELIABLE
You can count on us and trust that we will always be there to support you and your loved ones.
TEAMWORK
Our mission can only be realized through our shared values and working together as a team. We value all our staff and know we must work together effectively to deliver a seamless service.