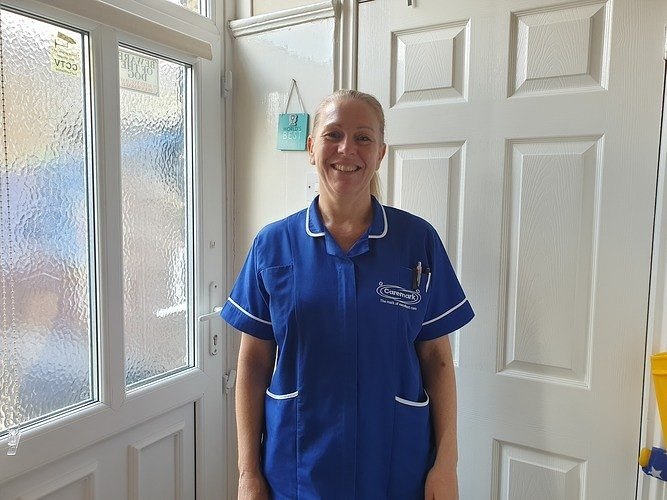 19 Jun 2020
TV actress joins the Caremark (Kirklees) Team
Nikki Hellens is used to a bit of drama, but thankfully there's none of that in her role as a Home Care and Support Worker for Caremark (Kirklees).
The actual drama comes from her other job as a professional actress which has seen her appearing regularly in programmes such as Coronation Street and Emmerdale. With filming of most TV programmes now suspended due to the Covid-19 pandemic and with her own business as a mobile beauty therapist and nail technician also currently not possible, Nikki applied for a job as an in-home Care and Support Worker with Caremark (Kirklees) and they're so glad she did.
She explained "I saw various care companies advertising for staff and Caremark (Kirklees) responded immediately when I applied and I am so glad they did as I have definitely made the right choice. I am really loving the job. I have always been a people person, so this is a perfect job and knowing I am helping customers to remain in their homes is fantastic."
Mother-of-two Nikki, who lives in Elland, West Yorkshire has been an actress for 24 years. She has appeared on Emmerdale playing various characters, including a nurse. She has also appeared on Coronation Street as Peter Barlow's solicitor and more recently as midwife.
Nikki went onto say "I joke that appearing as a nurse and midwife has prepared me well to be a carer but in all honesty, I think even when this is all over, I will probably continue in my care role with Caremark in between acting jobs. Caring provides the flexibility to enable me to do this but it's generally also a job I really enjoy."
Nikki, 54, has already been filmed in her Caremark outfit, for a programme called Isolation; The Series which involves people all over the world recording clips of themselves in their home. This involved showing her getting ready to go to work" The video I appeared in was done as a thank you to all the key workers across the world so it's very apt and now being a carer myself, it is also providing me great on-the-job research if I get a caring role again on screen!"
To find out more about working as a Care and Support Worker for Caremark,
click here