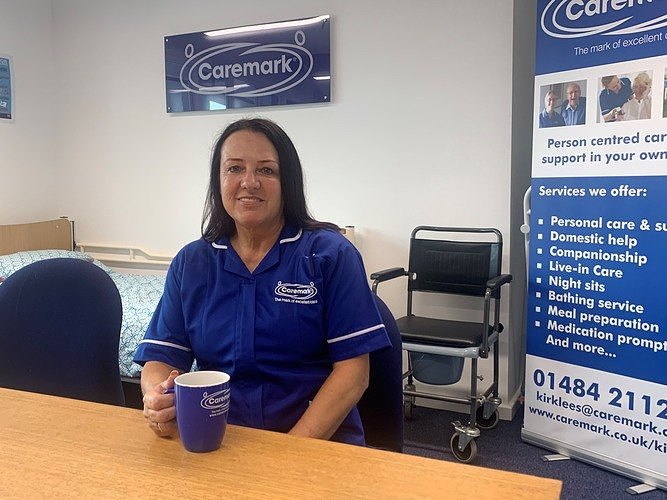 04 Nov 2021
Surviving a Tsunami and learning to walk again
Sonia took it all in her stride on her journey to becoming an In-home Care & Support Worker at Caremark (Kirklees) and says becoming a carer is "best thing I have ever done."
After surviving the deadliest tsunami in history and then spending the best part of two years learning to walk again after an accident, changing career to an in-home carer, was never going to phase Sonia Thwaites. Sonia joined Caremark (Kirklees) in March 2021 after having had enough of her previous job as a debt collector for a finance company.
She explains: "It was getting to the point during the pandemic when people were struggling to keep a roof over their head, clothe or feed themselves that I realised I was in the wrong job.
"We were put under real pressure to reclaim money, but I ended up with anxiety and not being able to sleep at night, and it was making me poorly.
"So, I decided to do something completely different and become a carer and it's the best thing I have ever done."
Sonia, 55, has experienced more than her fair share of drama in her life, which she says has made her an even stronger person. In 2004, she was in her second day of a holiday in Phuket, Thailand, when a massive earthquake triggered a tsunami which killed more than 200,000 people.
She was one of the lucky survivors, along with her partner and daughter.
Sonia says: "It just so happened that when we arrived, I spotted an emergency exit leading to the roof so when the water came in, I rushed up and ended up being one of only eight people who made it; everyone else was washed away."
Later, on another holiday, Sonia slipped over a piece of uneven pavement and snapped her foot. Botched surgery whilst abroad meant she had to undergo four further procedures in the UK and she couldn't walk for two years.
All of this helps to explain why Sonia, who has two children and three grandchildren, is a natural carer.
She said: "I have always considered myself a people person and go into people's homes with a smile on my face and that goes a long way in this job!"
If you would like to find out more about a career change into a caring environment, please
click here
for vacancies in your area.