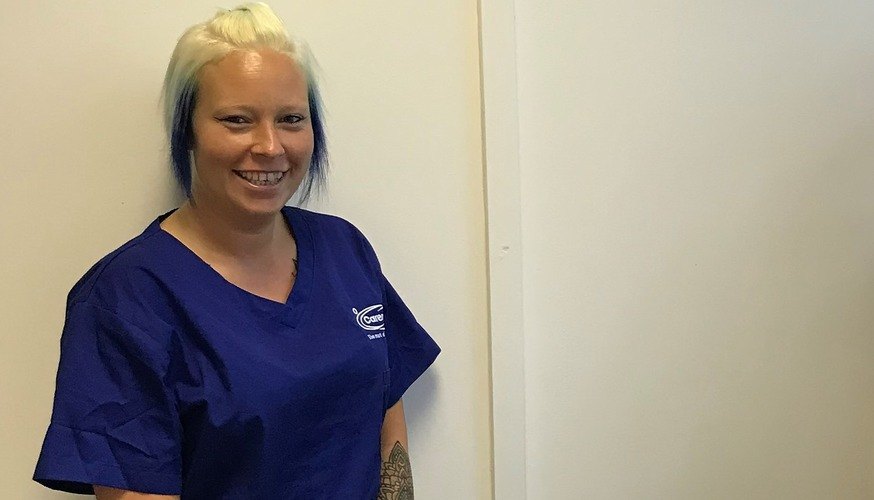 02 Nov 2020
"It's like I was made for Caremark and they were made for me!"
Care & Support Worker Amy Evans loves working for Caremark (Gloucestershire) so much she even has blue hair to match our branding!
Amy, a Care & Support Worker from Caremark (Gloucestershire) has impressed since joining them in June and was recently promoted to the role of Senior Care and Support Worker.
Her Field Care Supervisor Jenny said this was well deserved because Amy stands out for all the right reasons, and not just because of her hair!
Jenny describes Amy as "caring, reliable, resilient and supportive to the team" and "her clients love her. You can't ask for much more than that in our eyes!"
This is Amy's first job in care having previously worked in pubs and shops. She says one of the reasons which prompted her to come into care was the experience she gained looking after her husband when he became ill.
She explains: "He suddenly got an infection which spread to his organs and was rushed to hospital with stomach pains. The doctors said he would have died within 48 hours had he not been admitted so after spending two weeks in hospital he came home and I looked after him for the next six months.
"Thankfully, he recovered and was looking for a new job when he saw an advert for Caremark Gloucestershire. He said I should apply so I did and I haven't looked back since.
She went onto say: "In my other jobs I never felt I was going to progress, but here I have already been promoted to senior care and support worker after only 2 months and at the age of 30 I think I have finally found the career for me".
"You don't realise until you become a carer how varied the job is and to be able to put smiles on peoples' faces when you visit them is so rewarding.
"My customers know me as the lady with the blue hair, so with my blue uniform, it's like I was made for Caremark and they were made for me!"
To find out more about how you can be as happy as Amy, with a career in care and support with Caremark then
click here
.