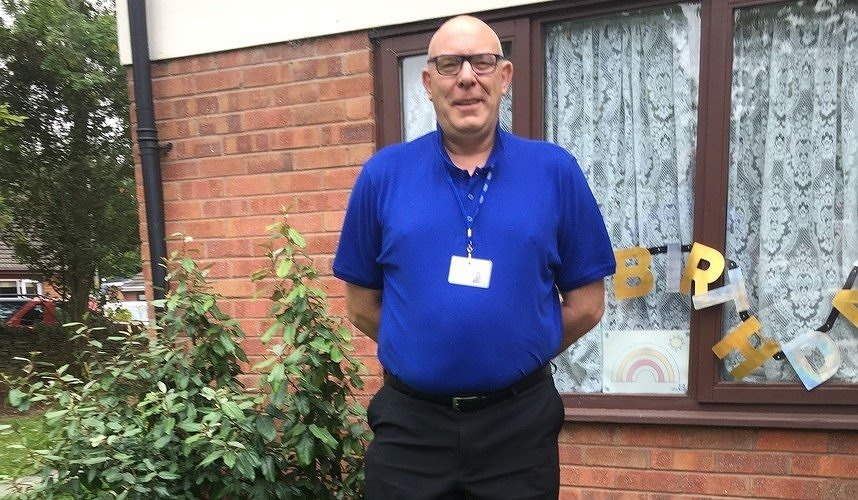 19 Oct 2020
"It's about the satisfaction I get from this job."
When you are told you will never walk again and then confound medical professionals by doing exactly that, it tends to change your outlook on life. This is exactly what happened to Vince, who recently joined Caremark (Cheltenham & Tewkesbury) as an in-home Care and Support Worker.
Vince spent 33 years working as an HGV driver until in 2009, out of nowhere he was admitted to hospital after a sudden loss of mobility. He underwent various scans and procedures to get to the root of the problem, until finally he was diagnosed with multifocal motor neuropathy and polyneuropathy, a rare disorder in which the nerves are attacked by the body's own immune system.
Vince was put on medication and required care to do just about everything for him. In a huge blow, he was also told he would never walk again, but intensive physiotherapy and occupational therapy, combined with his own strong will and tenacity, resulted in him defying his doctors' predictions and he began walking again.
He eventually returned to work as a HGV driver but says he was no longer fulfilled by the job, so he began looking for other things to do and with his son Sam working in home care he decided to give this a go, especially after the fantastic care he received during his recovery it was a chance to give back, so he applied for job with Caremark (Cheltenham & Tewkesbury)
They were immediately impressed with Vince after he joined them as a Care & Support Worker in August of this year. He said, for him, it was "like a light-bulb moment".
He explained: "It was very tiring at first because you have to remember so much, but pretty quickly everything flew smoothly into place and now it feels like I have been doing this for years".
Vince went onto say: "I absolutely love this job. I used to come home from working as an HGV driver stressed but now, I arrive back happy and joyous and my wife says I am like a different person, I feel so different in myself. I am 6ft 3ins in height but now it's like I am walking even taller. "It's a privilege for people to let me into their homes to provide care for them and knowing you are making such a difference gives you the real feelgood factor".
"I didn't just jump into this and I am at the stage of my life where it's not about the money; it's now just all about the satisfaction I get from this job."
If you want to find out more about how you can become a Care & Support Worker like Vince, serving the vulnerable in your local community then
click here
.