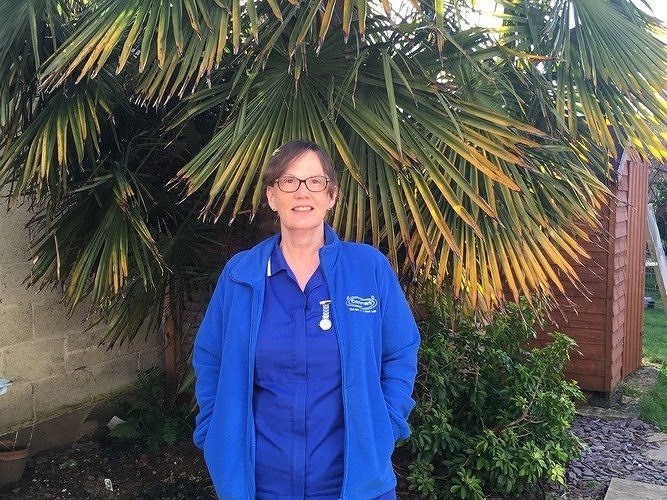 29 Jun 2021
In-home Carer tells us why she loves working for Caremark (Cheltenham & Tewkesbury)
Dayle: "I can have fun, sing and dance with my customers and I finally feel accepted."
Dayle likes to be appreciated which is just fine with Caremark (Cheltenham & Tewkesbury), because they say that they appreciate every single thing she does for them.
A Caremark (Cheltenham & Tewkesbury) spokesman had this to say: "It's one of the many reasons why we selected her as team player of the year at our recent end of year awards ceremony."
Caremark Care & Support Workers often work on their own, so remembering they are part of a team is very important, they went onto say: "Dayle does that in spades, whether it's helping new carers by shadowing them or bringing so much pleasure to her customers."
Dayle, 59, says she has been waiting to do a job like this her entire life: "I have worked since leaving school and had many jobs, from driving as a civilian employee in the army to being a teaching assistant.
I was happiest running my own cleaning business because it meant I could choose who to work for and this was always older people who couldn't do this for themselves. I had to give up cleaning because of an injury to my arm so I started thinking of all the jobs I had done in my life and which one I enjoyed the most, and that was caring."
That decision led Dayle to Caremark (Cheltenham & Tewkesbury)'s door in January 2019: "I never felt I was appreciated in my other jobs and always felt like I was just another number, but Caremark is different.
It's the first job where I have been able to be myself and where people can see me for who I really am."
"I can have fun, sing and dance with my customers and I finally feel accepted."
Dayle says she was touched when she discovered she had won the team player award: "I laughed, cried and had a real sense of pride. I love my job working at Caremark, so I couldn't be happier."
If you too would like to find out more about a career with Caremark, then
click here
to find the vacancies in your area.