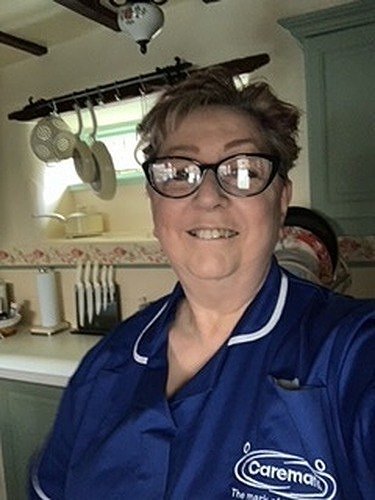 16 Jul 2021
"In accountancy you aren't really anything to anybody."
Care at home worker from Caremark (Kirklees) says why she finds a career change into care a winner.
After a working lifetime as a chartered accountant many people might feel ready to put their feet up for a comfortable retirement, but not so Diane Kubler who decided at 67 the time was right for a completely new career.
"I have no kids and I'm not married and I was just sitting at home whereas previously I had worked up to 50-hour weeks, including weekends. I was bored and decided I needed to do something that was worthwhile and that mattered to people."
A neighbour of Diane's, who worked for Caremark, told her they were recruiting and suggested she give it a go: "She thought it would suit me because I can talk for England and being able to communicate with people is half the battle," said Diane.
"When I went for the interview and they offered me a place I nearly fell through the floor. I said to them did they not want someone with care experience? They said my life experience was just as important."
Like all new Caremark recruits, Diane was given initial training and after passing the course she was offered a job. Now she feels her new career has given her a new lease of life. "In accountancy you aren't really anything to anybody, just a person sat at a desk crunching numbers. I was fortunate to have had the chance to travel with my work but during my final years as an accountant I dreaded going into work. Now I love my job, I wish I had made the switch years ago.
"You meet some real characters with lots of stories to tell and I have stories as well, I can remember the things they talk about. They might mention Hilda Ogden, and I can remember her and her ducks on the wall whereas a younger person might not."
Diane started with three shifts a week and now does 4 or 5 plus cover if needed.
They are a good company to work for and I'm very lucky to have a great line manager. I'm old enough to be her granny but that doesn't matter, we are a great team."
If you would like a career change, into a truly rewarding job, then please
click here
to find jobs in your area.