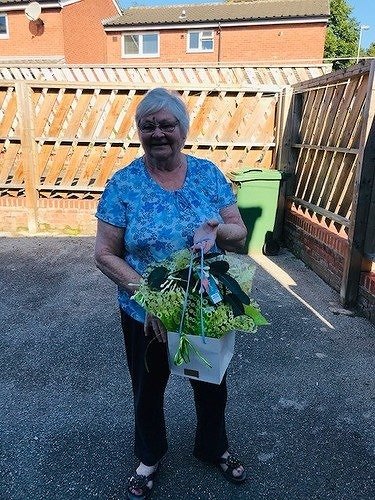 20 Nov 2020
"I love my Job" providing in-home care & support.
Caremark (Rotherham) took a moment to recognise a member of their Care & Support Team, who recently celebrated her 80th birthday.
Caremark Rotherham said: "We're proud to have Christine in our team because she is a fantastic member of staff, she's professional and reliable, she has a fabulous personality and bed side manner and she cares deeply for our clients. Her skills and personality have been formed through her life experience and her skills have transferred to her role, as they say in these parts 'she has wool on her back', and we feel that is a very good thing."
Christine joined the team over two years ago and has dedicated herself to a client who lives in her area, who she supports every morning to get ready for school and prepare for the day, speaking of her role at Caremark: "I love my job, it's magic, the office team are lovely- they are really kind and supportive. I never feel on my own, I get really good support and I know if there's anything I need or any queries I have I can always contact them".
Christine went on to say: "before I started work, I knew I wanted to work for a proper company, one that was well organised and that the clients could have confidence in and rely on. I have enjoyed all my training and feel I have a real purpose and i am really happy at Caremark, its great".
Caremark (Rotherham) Director, Mark spoke to Christine and went onto say: "what an amazing lady. She has fantastic energy, people like Christine are hard to find- she's a real star and we are lucky to have her in our team.
Mark went onto say:" What's really apparent is Christine's lust for life, the fact that she's still contributing is brilliant, she feels the role gives her a purpose and that is important to her too".
Cristine not only loves her job, but also the money she earns helps her to top up her pension, if you would like to find out more about the flexible working on offer at Caremark, then please
click here
.