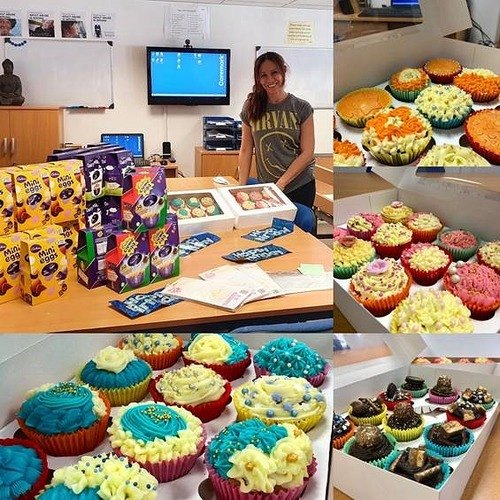 09 Apr 2021
Happy 10th Birthday to Caremark (Wokingham & Bracknell)
Celebrations are in full swing at the in-home Care provider based in the Berkshire Market Town.
The Care & Support Workers who provide care to the vulnerable in the local communities of Wokingham & Bracknell had a sweet surprise last week, a selection of home-made cupcakes to either collect from the office or have delivered to their home.
There was an abundance of happy care worker faces seen tucking into these tasty treats once collected from the central office, which is based at Market Place in Wokingham.
They have a lady called Glau (pictured) to thank for these fondant delights, as she stayed up all night baking enough for the entire Care Team and even made extra for clients and the Care & Support Workers families and their friends, so they too could celebrate this landmark by consuming these custom-made cakes.
They didn't stop there rewarding their hardworking team either, as with Easter celebrations also fast approaching, each Care & Support Worker also received an Easter egg.
The Managing Director of Caremark (Wokingham & Bracknell) Bipin Patel had this to say on the 10th birthday celebrations: "My thanks to Glau and the entire team, I am delighted to have a solid team looking after the needs of our community with quality care."
Caremark (Wokingham and Bracknell) offers Care and Support to any child, young person or adult looking for some assistance to continue living at home safely and comfortably, specialising in Dementia and End of Life care, offering an entire array of services from a single visit to full-time live-in care.
If you or a loved one require the highest quality of in-home care, that's become synonymous with Caremark then please
click here
for a full list of services available from your local Caremark office,