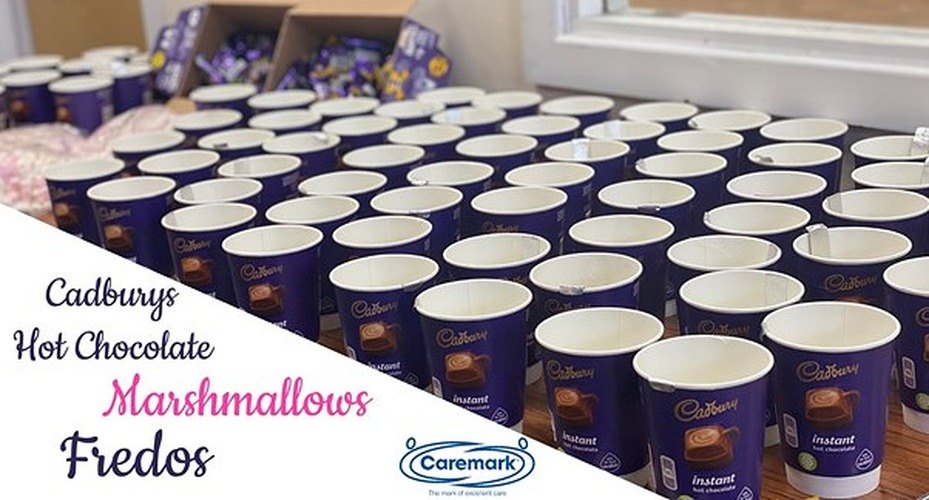 15 Mar 2021
'Choc's Away' at in-home care company Caremark.
Caremark (North Down, Ards & Belfast) show their appreciation to their Care & Support Workers.
On a recent cold Monday morning the Care & Support Workers from Caremark (North Down, Ards & Belfast) were greeted with a real treat, a hot chocolate, with marshmallows and a chocolate bar. It is safe to say that these went done a treat!
The management team got up early to prepare this fantastic surprise for their amazing, empathic team of carers as they arrived to collect their usual personal protection equipment, which has been standard equipment since the onset of COVID-19 to keep them and clients as safe as possible on their calls.
Caremark (North Down, Ards & Belfast) had this to say on social media: "Blue Monday, what's that? Well in Caremark today our 100's of 'heroes in Blue' collected their PPE along with a Cadburys hot chocolate, marshmallows and of course a Fredo, to keep them warm on a cold winter's day!"
This is just the latest in a long string of innovative ways for the owners of Caremark (North Down, Ards & Belfast) to recognise their team for all the amazing work they do, day in, day out.
What a fantastic idea to warm up these amazing people before they go off to care for the vulnerable in their local community.
If you think it's time you made the change to a more rewarding career, where you are valued as a respected keyworker, then come and talk to us at Caremark, no experience is necessary, as full training is provided and there are positions available all over the UK.
You too could be a highly skilled Care & Support Worker, caring for those who need it the most, in your local community. To find out more, please
click here
.