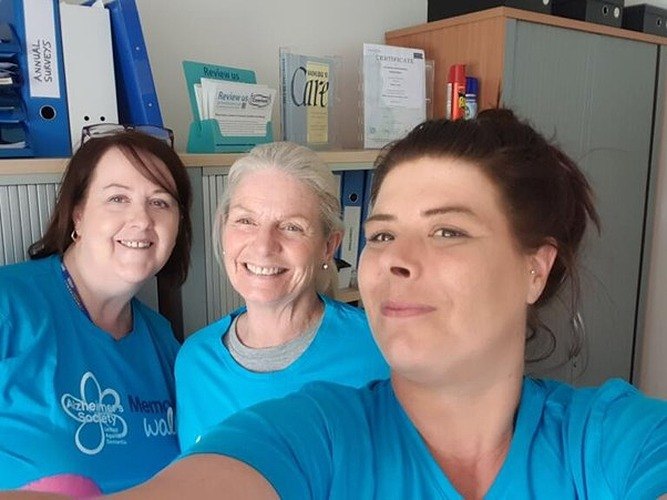 10 Nov 2021
Caremark raise funds at Memory walk.
Care at home provider, Caremark (Guildford & Woking) staff raise £300 for the Alzheimer's society.
Three of the Care Team completed the walk, raising funds for the charity, the Alzheimer's society, who use these funds for things like their 'Dementia Connect Support Line', which received over 45,000 calls last year, training 'Dementia Friends', which now total over 2.8 million, and the £37 million they have invested into research.
The society aims to balance support it receives to ensure that they can offer help to those who need it most whilst looking for a cure and trying to create a more dementia friendly society.
It's a charity which is close to their hearts at Caremark (Guildford & Woking) as they are specialists in Dementia and Alzheimer's care at home, along with the other 116 Caremark offices providing care across the nation.
Pictured from left to right are Sarah Jones (Registered Care Manager), Liz Falkingham (Training & Recruitment Manager) and Laura Webb (Care &Support Worker) who had this to say on their fundraising exploits: "We walked 2k & 7k for the Memory Walk with our furry friends Fudge & Boycie, raising £300 for a great cause."
Caremark understand that helping someone you love to cope with the challenges that come with dementia and memory loss can be exhausting, upsetting and isolating. Caremark is here to offer practical support, advice and reassurance. They can provide professional and fully trained care assistants for day care at home as little or as often as you need it, as well as respite care and live-in care.
They have plenty of experience to share with you, enabling you to feel better equipped to deal with any situation that might arise. Letting you know about useful outside resources, including details of support networks and local dementia groups that you and your loved one might find helpful.
Familiarity, regular routines and being cared for at home can slow the progression of many common dementia symptoms. Gone are the days when the only option facing someone living with a progressed form of dementia was residential care.