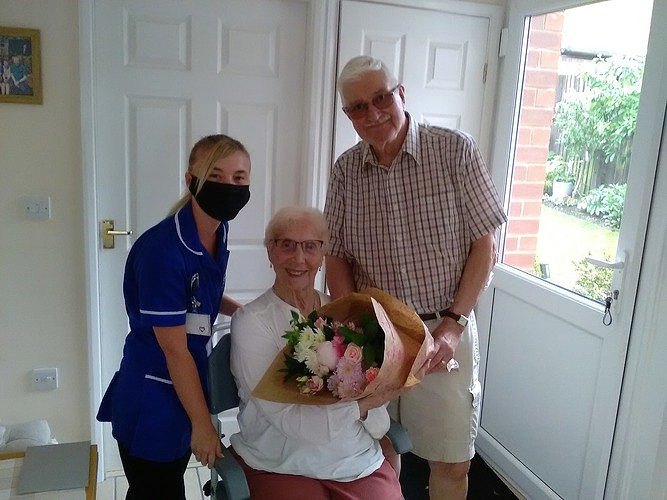 01 Dec 2021
Care at home six mornings a week: "A great help for us"
Clients from Caremark (Broxtowe & Erewash) tell us about 60 years of marriage and how care & support in their home works for them.
When Pauline Parkes was left paralysed by a stroke there were fears she would no longer be able to live in the home she shared with her husband Michael. She was in hospital for 11 weeks after her stroke, with loss of mobility to her left arm and leg, she found herself unable to walk without assistance.
However, 12 years on and thanks to her determination, the dedication of family, some home adaptations and the help of in-home care support from Caremark (Broxtowe and Erewash) the couple remain together in their own home.
"We have a home care support who visits six mornings a week to help Pauline get washed and dressed, it's a great help for us," said Michael.
The couple, now 82, have two daughters, Joanne and Victoria, four grandchildren and two great grandchildren who are regular visitors to the family home. They gathered recently to celebrate Michael and Pauline's diamond wedding anniversary and whisked the couple off for a surprise weekend break in the Peak District.
On the day of their anniversary, Pauline presented Husband Michael with a card, which contained a simple message '04.07.59', the day they met: "We were at the same primary school and then I saw her again when I was 20, visiting the dentist where she was working as a dental nurse," said Michael, who worked as a surveyor for the National Coal Board.
"We got chatting and she told me about her favourite dancehall which, by chance, I happened to visit fairly regularly after that and the rest is history. July 4, 1959, was our first official date and we got married two years later."
The couple's home has a wet room, stairlift and other adaptations, Pauline uses a wheelchair and has also learned to use a mobility scooter. Near the couple's home there are many disused railways that have been converted into accessible public footpaths and Michael and Pauline are able to get out and about and enjoy them.
Our support allows the family to plan days out, safe in the knowledge that someone will be there to help Pauline get ready in a morning and help with domestic tasks.
"We have been with Caremark for four years now," said Michael.
"There were a few things not quite right to start with and I found when I called, they always had time to listen and did their best to make things right. Now things work well, Abbie is Pauline's main carer and she does a very good job."
From a single call to full time live-in care, Caremark will assess client's needs and build a bespoke Care Plan around them, to find your local office and book in your free care assessment,
please click here
.