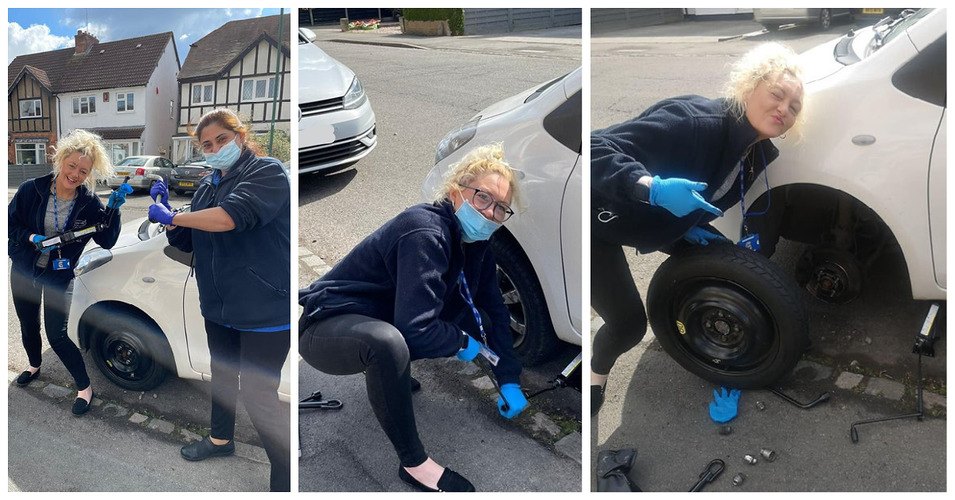 03 Aug 2021
Care at home provider Caremark (Solihull) call her 'Super Kelley'
A Field Care Supervisor at Caremark (Solihull) came to the rescue when Tanzila, one of their in-home Care and Support Workers, had a tyre puncture.
A spokesman for Caremark (Solihull) had this to say on her exploits: "Our clients need us and we will do everything it takes to get our carers out to help and support them. So, a rescue plan kicked into play so Tanzila could continue to deliver care to all her clients on time."
They went onto say: "Kelley is always dedicated to making sure clients and staff are safe. This time she went above and beyond her duties. Not only does she support her team with their everyday tasks to safely support every client but also change a tyre so no one goes without the care they need."
Nice one Kelley! We hope this didn't "
Tyre you out too much
?"
Caremark Care & Support Teams, always go above and beyond to make sure vulnerable people who need care in their local communities get the care they need. From a single visit a week to full-time live-in care, Caremark Care & Support Workers can help with the day-to-day tasks that have just become too much, they can help with shopping, medicine administering and so much more. For a full list of services on offer, and to find your local office, please
click here
.
Caremark Care & Support Workers are responsible for meeting the support requirements of their clients. In a way that respects the individual and promotes their independence. They travel to the clients own homes and assist them with daily tasks.
The type of support that you can expect to be providing is no different to what would reasonably be given by a member of the person's family. If this sounds like the kind of rewarding career that would suit you and If you too would like to join a pro-active care team like Kelley, then have a look at the care jobs available by clicking
here
, as Caremark are currently recruiting across the country.