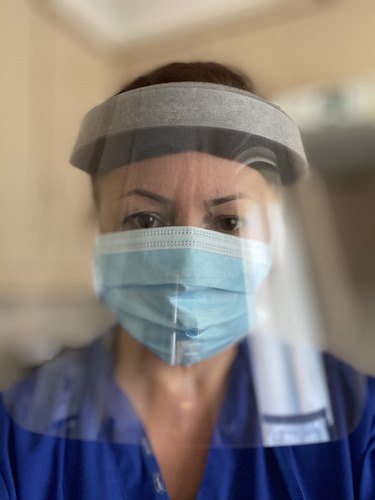 05 Jun 2020
Behind Closed Doors: Photographs of Essential Keyworkers During COVID-19.
Thanking Essential Keyworkers Through Photography.
Care and Support Worker Judyta from Caremark (Winchester & Eastleigh) had her image chosen (pictured) from over 12,000 that were submitted for this online photography feature "Thanking Essential Workers Through Photography"
Click
Here
to see this image and others, taken in different countries, different industries, and with different photography methods, we hope that you find their work inspiring and join us in taking a moment to reflect on the frontline heroes captured within each shot.
Judyta had this to say:
"My photo is a self-portrait that aims to show how our lives have changed since the outbreak of COVID-19. Wearing a mask and face shield is making our jobs even harder because it is not easy to breathe under all the protective equipment. To me, it's amazing that a picture of a tired care-worker has been noticed."
Judyta as part of the Caremark (Winchester & Eastleigh) team helps the vulnerable as an in -home Care and Support Worker and is proud to support her community on the frontline.