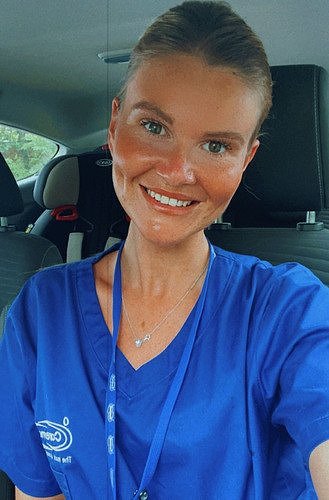 04 Oct 2021
Amber from Caremark (Cheltenham & Tewkesbury) leads a double life.
A highflyer with Virgin Airlines cabin crew, but she's also part of a well-grounded caring and support crew with Caremark.
After being furloughed by Virgin during lockdown Amber decided she needed another job and applied to Caremark and she's enjoyed it so much she's stayed and now combines both jobs.
"That flexibility is important to me. I enjoy both jobs and now when I don't have a flight I can work for Caremark," said Amber, who has always had an interest in joining a caring profession since helping to look after her grandfather.
"When I was 20 I went to University to study paediatric nursing, I think I was too young and it was too much for me and I didn't finish the course but there was always something about the caring sector that appealed," she said.
"Me and mum moved in with my Grandad to care for him after he suffered dementia and he also had carers coming in to help. I remember thinking that one of them just wasn't very nice and how I would not want a vulnerable person, someone's loved one being treated like that.
"So, when I joined Caremark, I was determined that I would treat clients the way I would treat my own grandad."
Amber admits the work can take an emotional toll and it isn't all as she expected.
"I thought it would be elderly people I would be caring for, but that's not always the case, some of the clients can be in their thirties and for a variety of reasons need help and care.
"It can be tough to see how vulnerable some people are and of course you can build a relationship with someone and sadly they pass away, so you need to be able to cope with that and keep going.
"Me and mum were there for my grandad and I find it heart breaking that there is no-one there for some people and that's why I find this work with Caremark so rewarding."
Amber says the role requires empathy, lots of patience and the ability to be kind to people.
She adds: "I think that also in life - that's what I keep telling my four-year-old son anyway."
If you too would like a rewarding job like Amber, then
click here
to find out more about jobs in your local area with Caremark.