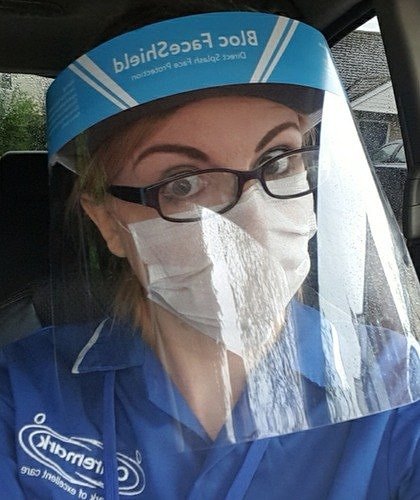 04 Aug 2020
A reflection of Care and Support during Covid-19.
Caremark (Gloucester & Stroud) Managing Director Michael Folkes reveals the impact the global Covid-19 pandemic had on the provision of in-home care services locally and how they responded to ensure their customers and staff were protected.
As we all know, on 23rd March 2020, the Government ordered a UK-wide lockdown to try to prevent the spread of the Coronavirus pandemic, closing non-essential shops, pubs, restaurants and hotels, ordering businesses to close offices, restricting outdoor activity and enforcing a 2m social distancing rule. Whilst millions of people were put on the Government's furlough scheme those of us working in the health and social care sector were still required to provide our services to the sick, old, and vulnerable as part of the group of keyworkers.
Caremark (Gloucester & Stroud), have been making preparations to alter the way they worked well before the official lock-down, sourcing appropriate PPE was a priority. Face-masks, face-shields, gloves and aprons were all going to be necessary if they were to continue providing care for people in their own homes across Gloucestershire.
Michael said: "We also had to reassure our customers, their families, and own staff – all of whom were understandably worried about the risks to their own health. We followed strict infection control guidance from the government, in addition to our already strict protocols, to ensure staff and customers were fully protected during home visits."
Those first few weeks were challenging, uncertainty from customers and carers, but not once did they deviate from their number one goal, to deliver high quality in-home care services to the old, disabled, and vulnerable.
He went onto say: "I am pleased to say that not once did the standard of our service drop and that's down to the office team who were now working from home and our amazing carers in the field, who were simply amazing, It meant we were able to continue providing care safely in people's homes, thereby reducing the burden on the NHS."
Lockdown restrictions are now being lifted so we are all starting to see a return to normality, although he was clear to say: "this is a 'new' normal and not the old one."
Michael's priorities are clear, to continue protecting our staff and customers now and in the future while supplying the very best in-home care to his local community.
He closed by saying "This experience has made us all even stronger as an organisation and this will stand us in excellent stead as we continue to grow our services, take on more care packages and employ more local people".
If you want to find out more about being a Care and Support Worker in your local community click
here
.