Care Worker Hall of Fame
Each month, Caremark receives nominations from across the network for the Care Worker of the Month award. This is in recognition of the excellent home care that Caremark provides and those Care Workers who go above and beyond to enrich the lives of their clients.
08 Mar 2018
Congratulations go to Sophie Woodward from Caremark (Cannock Chase & South Staffordshire) and Melanie Allwood from Caremark (Aylesbury & Wycombe).
Read Full Article >
---
30 Jan 2018

Monica, as she likes to be called, demonstrated compassion, professionalism and the ability to see beyond her client's extremely challenging behaviour and see the person behind it.
Read Full Article >
---
17 Nov 2017
Linda works closely with clients with learning disabilities as well as those with dementia and her patient and thoughtful way of working with them has brought forth some lovely compliments. Whatever she is doing, Linda always works in line with best practice principles and the Caremark system.
Read Full Article >
---
01 Sep 2017
It is not often that clients nominate their care worker for an award, but Grace is one such example! Dedicated and hardworking, Grace has shown a high level of professionalism across all aspects of her role and has contributed in a significant way to the social, physical and intellectual development of one of her clients who has learning disabilities.
Read Full Article >
---
07 Jul 2017

Amy's relationship with her clients is excellent and although they comment that she "always goes above and beyond" for them, she always works within Caremark's policies and procedures and does not cross professional boundaries. She has demonstrated clearly that she understands the scope of her role whilst helping her clients to feel really well cared for.
Read Full Article >
---
01 Jun 2017
Marcela Tica made such a great impression on her client Mr Duncalf and her Care Manager, Sandra Parsons that they both nominated her for the monthly national award!
Read Full Article >
---
01 Apr 2017

Nominated by his Care Manager, Diana Graves, Octavian is considered to be a shining example of an excellent care worker. He is totally reliable from every aspect, is flexible in his working approach and picks up calls outside his availability.
Read Full Article >
---
01 Feb 2017
Congratulations to Maria Moldovanu (Monica) from (Hillingdon) Care and Support Worker of the month for January 2017
Read Full Article >
---
01 Nov 2016

Leah was one of the first Care Workers to join Martin Steyn and his new team and already has set a very high standard of care for others to follow. She fully understands the importance of training and is meticulous in all her record keeping.
Read Full Article >
---
01 Sep 2016
Sharlene and Zulaikha worked exceptionally well together in a difficult and distressing situation which clearly demonstrated their competence, professionalism and compassion.
Read Full Article >
---
01 May 2016

Ian Wood is a relative newcomer to providing care having only joined (Kirklees) at the end of January. However, he quickly cemented his place as a pivotal member of the team providing high standards of Care and Support to his clients. From the word 'go', Ian embraced the Caremark system by ensuring he followed all procedures and guidelines and clarifying any areas where he was unsure.
Read Full Article >
---
01 Apr 2016
Tina has worked for (Redcar & Cleveland) for just over a year now and has made a big impression on both the management and her clients.
She is considered to be a real asset to the team, is a pleasure to work with and often supports her colleagues in times of need.
Read Full Article >
---
01 Feb 2016
Hannah has settled in very well at Caremark and is greatly liked and respected by both her colleagues and her clients. Her capable, caring nature is clearly demonstrated with the number of clients she supports who have complex needs. She is always willing to do that bit extra to ensure all are safe and comfortable and nothing is ever too much trouble for her.
Read Full Article >
---
01 Jan 2016
Emma is a really valued member of the team and loved by all the clients she visits, who describe her as being 'happy, bubbly and caring'. She is always prompt for her calls, complies with all Caremark's policies and procedures and informs her Field Care Supervisor or the office of any issues, as they occur.
Read Full Article >
---
01 Dec 2015
Jayne is an excellent Care Worker who is reliable, always works to best practice principles and communicates clearly and efficiently with the Field Care Supervisors. She knows her clients very well and so is able to notice any changes in their health and immediately feeds this back to her Supervisors.
Read Full Article >
---
01 Oct 2015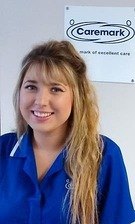 This month's nomination has been sent in by Calum Gray, the Managing Director of (Winchester & Eastleigh) who was very impressed with one of his younger Care Workers. Chereece Engel-Gilmour, although only 19 years old, has demonstrated really good practice and has shown maturity and use of initiative beyond her years.
Read Full Article >
---
01 Sep 2015
Working with her Field Care Supervisor, Claire quickly reports issues, is observant of client concerns and asks for help if extra care is needed.
Read Full Article >
---
01 Aug 2015
Mandy was nominated for this award by her Care Manager, Angie Austin who described her as "an absolutely outstanding Care Worker".
Read Full Article >
---
01 Jul 2015
Charlotte was nominated for this award in the first instance by a client! Always reliable, Charlotte has demonstrated excellent best practice in all areas of her work and her client Mrs G was particularly praiseworthy of her young Care Worker.
Read Full Article >
---
01 Jun 2015
Emma demonstrates high standards of care and working to best practice principles with all her clients, but this was illustrated recently with one extremely vulnerable young lady in particular.
Read Full Article >
---
01 May 2015
Betty is 100% reliable. She can always be depended on to arrive on time, to deliver a high standard of service to her customers and not to let us down at the last minute
Read Full Article >
---
01 Apr 2015
Alison joined Caremark (Sefton) in August last year with no previous experience in Care. Since then she has achieved her NVQ 2 in Health and Social Care and is now well on her way to achieving NVQ 3.
Read Full Article >
---
01 Mar 2015

Cally started with Caremark in September 2011 and has shown herself to be a consistently reliable, professional and conscientious care worker, very rarely absent from work.
Read Full Article >
---
01 Feb 2015

Sophie has been a Care Worker with (Redcar & Cleveland) for almost 2 years and during that time has built up excellent trusting relationships with her set group of clients and is seen as part of their family.
Read Full Article >
---
01 Jan 2015
Toye received high praise from her Care Manager and her Field Care Supervisor for her faultless documentation and record keeping as well as her dedication to following Caremark's policies and procedures.
Read Full Article >